We take the time to understand what your needs are, who you are looking to communicate with, and why, so we can make sure we offer you the correct services to guarantee you achieve your goals. 83% of our readers work in Big Pharma, CROs, or Biotech, 63% of whom are high-level decision-makers (senior managers or above). We create personalized & targeted campaigns that meet your marketing needs and offer dedicated support throughout your campaign. Our in-house editorial and design teams ensure the optimal message is delivered.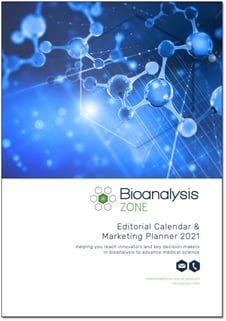 To ensure our community continues to enjoy our high-quality, independent content, and to guarantee that our advertisers always gain maximum value, we limit the number of commercial partners we work with so don't miss out.
Want to find out more about promotion on Bioanalysis Zone? Fill out the short form to receive a media pack, email or call the Bioanalysis Zone sales team:
sales@bioanalysis-zone.com
+44 (0) 20 8371 6090.
Complete the form below to request the Bioanalysis Zone 2021 media pack.