Bioanalysis Zone Editor's picks - Biomarker research: from discovery to validation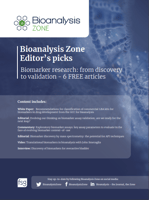 Sign up to Bioanalysis Zone below and receive your complimentary Editor's picks.
Biomarkers are molecules indicative of homeostasis or disease states. The judicious use of appropriate biomarkers has many benefits, ranging from helping physicians to provide more effective treatment to increasing our understanding of biological systems. This eBook covers a variety of hot topics in biomarker research, ranging from recommendations on LBA kits for biomarker bioanalysis to the potential of mass spectrometry techniques in biomarker discovery, learn more inside.