Bioanalysis Zone -
Spotlight: LC–MS in
early discovery-stage workflows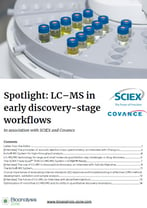 Download highlights from our latest Spotlight feature when you sign up to Bioanalysis Zone below.
LC–MS is a versatile method used to separate compounds based on their weight and affinity for the mobile and stationary phases of the column. The use of LC–MS in early discovery stage-workflows enables rapid screening of large compound libraries for activity against biological targets. This technique can accelerate the early drug screening process, identifying compounds with potential – known as drug leads – and reduce time spent on discovering inefficient leads.
During our Spotlight, we have explored LC–MS technologies used to accelerate drug discovery, different instrumentation and emerging industry trends. Complete the form below to download an eBook of highlights from the Spotlight.